Margaret Cockburn (L) and Janine Good prepare for the mid-winter exhibition
Mid-Winter Exhibition
featuring Wilma Etherington ~ A Passion for Colour
A welcoming exhibition by past and present students of Living & Learning Pakenham's painting classes
This year we have decided on a Mid-Winter Exhibition to help brighten the winter months.
This event is a valuable experience for students of the painting classes at Living & Learning Pakenham to proudly display their talents and achievements – something that often takes courage.
Everyone is invited to come along and view the artwork and support the development of emerging artists. Thirty five (35) original works will be on display, and a number will be offered for sale.
Alongside the current students who participate in both the morning and afternoon groups under instructor Janine Good's guidance, as a special tribute this year, we are featuring the paintings of past student Wilma Etherington who sadly passed away earlier this year at the age of 90.
Wilma will be remembered for her rich colourful paintings and her quiet but sharp sense of humour. She had a wonderful hearty laugh that would often leave her breathless!
Proceeds from the sale of paintings by Wilma Etherington will be donated to the Guide Dogs.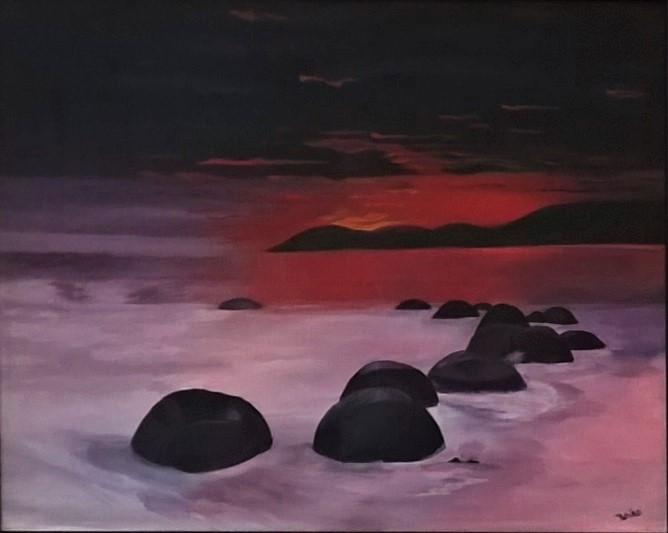 Wilma Etherington
Moeraki Boulders, Otago NZ
Acrylic on board 2015
Wilma Etherington (1932 – 2023)
Bunyip resident Wilma Etherington was a student in the class for more than a decade, attending the morning class and sharing a table for most of those years with her sister, Margaret Cockburn, a gifted painter of miniatures. Wil's favourite theme was landscape and she particularly enjoyed painting the rich warm hues and light of sunsets.
Margaret has generously donated Wil's remaining paints and brushes to the class where they are greatly appreciated.
Both Wilma and Margaret exhibited in group exhibitions at Living & Learning Pakenham from 2009 until 2017 and were also part of the Cardinia Cultural Centre 2016 Exhibition 'Diversity the Key to Creativity', a Living & Learning Pakenham Group Exhibition.
In addition to painting Wil and Margaret were members of the quilting group that collaborated under the guidance of Eleanor Taylor to create the beautiful Towns of Cardinia Shire series of quilts that are now on permanent display at the Cardinia Cultural Centre and the Flora and Fauna Panels at the Pakenham Library.
Exhibition Hours
Mon – Thurs
9:00am – 4:00pm
31 Jul – 17 Aug 2023
---
Exhibition Address
6b Henry Street, Pakenham
---
Details
35 original works on display
Variety of pieces offered for sale
Everyone welcome
Free admission
---
Enquiries
5941 2389