---
English Language for Living and Working in Australia
Learn and practice reading, writing and speaking
Develop and improve your functional English
Learn about Australian workplaces and employment skills
All levels and abilities welcome
This program provides an opportunity for learners to develop and practice their functional English language skills.
Learners develop and practice their reading, writing and speaking.
The course offers opportunity for newly arrived migrants to learn about Australian workplace culture and employability skills.
Skills covered will be dependent on the current ability and knowledge of the learner. Learners will be formally interviewed prior to commencement to ascertain their individual needs.
Students of all abilities are encouraged to attend.
For more details visit the English Language for Living and Working in Australia course page.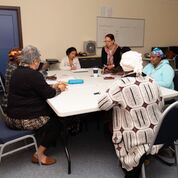 ---
Migrant, Refugee & Asylum Seeker Support Services
Support is provided to our multicultural communities who are attending programs at LLP. Assistance to navigate day to day activities and find appropriate health and support services assists our new residents to better understand Australian culture and participate in community activities.