This one-day short course is the highest qualification available in Australia and has been designed to give you all the skills and competency required to begin testing and tagging.
The course is delivered by Test & Tag Training, a registered training organisation (RTO no. 40604).
Course Details:
Duration
1 day face to face (plus an online OHS component)
Qualification Received
Statements of Attainment & ID card with Certificate no.
Qualification Level
Highest level (ASQA approved)
UEECD0007 – Apply work health and safety regulations, codes and practices in the workplace
UEERL0003 – Conduct in-service safety testing of electrical cord connected equipment and cord assemblies
Electrical Knowledge
No previous electrical knowledge or background is required
Days:
Wednesday
Dates:
30 November 2022
Times::
8:00am – 4:30pm
Cost:
$395.00 (GST exempt)
Provider:
Test & Tag Training (RT0 40604)
Location:
Living Learning Pakenham
6B Henry St, Pakenham
Enrolment:
You are welcome to enrol using any of the methods below:
(Note: places are limited to 10 for this course. Registration and pre-payment is required.)
◾ Complete the Tag & Test Registration Form
◾ Email us at admin@livinglearning.org.au
◾ Phone us on 5941 2389
◾ Drop in during business hours at 6B Henry Street, Pakenham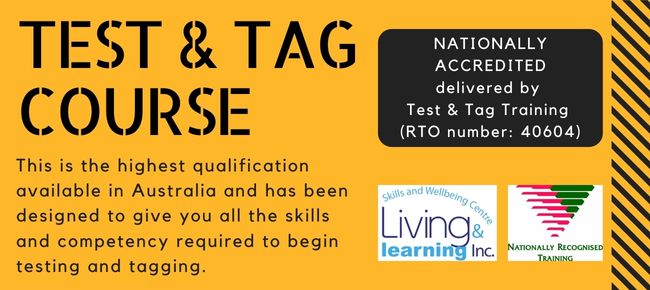 Skills Courses
Delivered by Living & Learning Pakenham
Delivered by independent provider